ANATHEMA will return in April with Weather Systems, the bands brand new studio album and follow-up to 2010's amazing We're Here Because We're Here. Weather Systems will be available on Kscope from April 16th and on April 24 via The End Records. Producer, Steven Wilson (Porcupine Tree), has described it as 'definitely among the best albums I've ever had the pleasure to work on'.
About the new album Daniel Cavanagh says:
"It feels like we are at a creative peak right now, and this album reflects that. Everything from the production to the writing to the performances are a step up from our last album."
'This is not background music for parties. The music is written to deeply move the listener, to uplift or take the listener to the coldest depths of the soul."
The album was recorded in Liverpool, North Wales and Oslo, each place significant to Anathema past, present and future. The record was produced and mastered by 5 times Norwegian Grammy nominated Christer-André Cederberg (Animal Alpha, In the Woods…, Drawn), who Daniel has described as 'a revelation. His calmness and brilliance has helped to bring about the greatest inter-band chemistry that Anathema have experienced together in their career'.
WEATHER SYSTEMS Tracks List:
1. Untouchable, part 1
2. Untouchable, part 2
3. The Gathering Of The Clouds
4. Lightning Song
5. Sunlight
6. The Storm Before The Calm
7. The Beginning And The End
8. The Lost Child
9. Internal Landscapes
Tonight, at SOS METAL RADIO SHOW from Portugal, CRISTIANO TRIONFERA, from Italian brutal/symphonic act FLESHGOD APOCALYPSE will be interviewed live by the shows hosts Filipe "Mj.iMpErAtOrE" Marta, Bruno Marques and Andréa Palmieri. The shows starts at midnight in Portugal (GMT +1) and goes completely live until 5am in the morning at Rádio Antena Minho, from Braga city, Portugal, Dial 106.0 FM, but it can also be listened via web at the radio's official website http://www.antena-minho.pt. Just click the "NO AR" sign at top right to load up the player.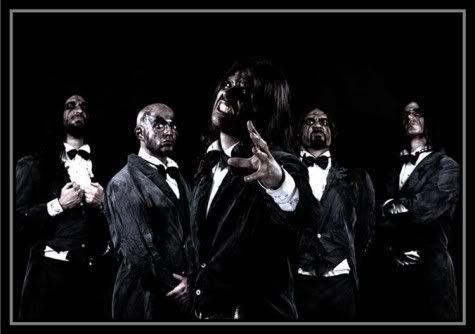 FLESHGOD APOCALYPSE is:
Tommaso Riccardi - Lead Vocals, Guitars
Paolo Rossi - Vocals, Bass
Cristiano Trionfera - Vocals, Guitars
Francesco Paoli - Drums, Guitars and Vocals
Francesco Ferrini - Piano, Orchestra
The "Agony" tracks list:
01. Temptation
02. The Hypocrisy
03. The Imposition
04. The Deceit
05. The Violation
06. The Egoism
07. The Betrayal
08. The Forsaking
09. The Oppression
10. Agony
11. Heartwork (CARCASS cover)
You can watch below the video for "The Violation", directed by Salvatore Perrone. The song comes off the band's second full-length album, "Agony" (album art and tracks list above),  released on August 9 via Nuclear Blast Records.