ADRENALINE MOB, formed by Mike Portnoy (ex-DREAM THEATER), vocalist Russell Allen (SYMPHONY X), and guitarist Mike Orlando, will release "OMERTÁ", their debut full-length album on March 13th via Elm City Music in conjunction with EMI Label Services, and right now the first single 'Undaunted' is available on iTunes. Check the video below for the same song:
Adrenaline Mob recently parted ways with guitarist Rich Ward (STUCK MOJO, FOZZY) and bassist Paul DiLeo. Portnoy issued the following 0statement:
"Rich Ward (guitar; STUCK MOJO, FOZZY) and Paul (DiLeo; bass) are no longer part of Adrenaline Mob. The core of this band has always been the three of us (including SYMPHONY X vocalist Russell Allen and SONIC STOMP guitarist Mike Orlando). The album was written and recorded that way. We later added Rich and Paul as part of the original touring lineup and we had a blast touring with them. However, they both had other projects and priorities and could not give a full-time commitment to Adrenaline Mob. We're all still friends and we wish them all the best in their other bands, but for now, our focus is entirely on Adrenaline Mob, the release of Omertà on 3/13/12, and hitting the road hard and playing for you all soon!"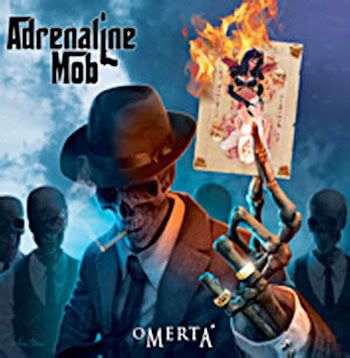 "Omertá" tracklist:
01. Undaunted
02. Psychosane
03. Indifferent
04. All on the Line
05. Hit the Wall
06. Feelin' Me
07. Come Undone (feat. Lzzy Hale)
08. Believe Me
09. Down to the Floor
10. Angel Sky
11. Freight Train
Listen at the player below to the EP "ADRENALINE MOB" released last summer!