After announcing that Tommy Karevik would be the band's new vocalist, Kamelot have now revealed officially that their new album will be titled Silverthorn. It will be a conceptual album and the release date has been rescheduled for October 26th (Germany), October 29th (rest of Europe) and October 30th (North America) via Steamhammer/SPV.
The album cover is finalized but will not be revealed until closer to the release date. You can view the promo cover released below, but this will not be the main cover.
(via Metal Storm)
American melodic metallers KAMELOT have posted a new three-minute video update from Morrisound Recording in Tampa, Florida where they are currently laying down drum tracks with renowned engineer Jim Morris for their new album, to be released on September 25 (one day earlier internationally) via Steamhammer/SPV. KAMELOT will then head to Wolfsburg, Germany's Gate studios to complete the CD under the direction of producer Sascha Paeth (EDGUY, AVANTASIA, RHAPSODY).
The title of KAMELOT's new album will be revealed at the end of June, along with the name of the band's new vocalist. However, according to guitarist Thomas Youngblood, one thing is certain: "Our fans can really look forward to our new record, because it represents KAMELOT in every way!"
KAMELOT's recently completed North American, South American and European tours featured guest singer Fabio Lione of RHAPSODY OF FIRE following the departure of KAMELOT's longtime frontman, Roy Khan.
(via Blistering)
Check below for some video footage of VICIOUS RUMORS's May 20, 2011 concert at Garage Deluxe in Munich, Germany. The band's latest album "Razorback Killers", was released in Europe on March 28 (except in Germany, where it arrived three days earlier) and in the U.S. on April 5 via SPV/Steamhammer and it was recorded at Trident Studios in Pacheco, California with producers Juan Urteaga and Geoff Thorpe.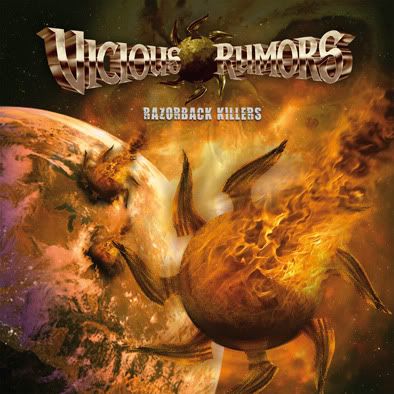 The track listing is as follows:
01. Murderball
02. Black
03. Razorback Blade
04. Blood Stained Sunday
05. Pearl Of Wisdom
06. All I Want Is You
07. Axe To Grind
08. Let The Garden Burn
09. Rite Of Devastation
10. Deal With The Devil
VICIOUS RUMORS 2011 is:
Larry Howe – Drums
Brian Allen (LAST EMPIRE, MALICE, WILD DOGS) – Vocals
Kiyoshi Morgan – Guitar
Stephen Goodwin – Bass
Geoff Thorpe – Guitar
VIRGIN STEELE have released a video for the song "God Of Violence Kill", the bonus track of the new "Noble Savage" reissued album via SPV/Steamhammer. "Noble Savage" was re-released on April 18 in Europe and will make it available in North America on July 12. This re-release comes with 19 bonus tracks, 12 of them previously unreleased. And since 1986, it is available for the first time again on vinyl.
[youtube qQfzHapAmcg]
Commented VIRGIN STEELE frontman David DeFeis:
"'Noble Savage' is an extremely important album in the history of VIRGIN STEELE. It was a major accomplishment for us at the time that it was recorded, and an immensely satisfying recording that I feel still holds up quite well today. It was the most focused, most well recorded, written and performed album we had done up to that point in our career. For me it is really our first album."